Helpful Articles and Videos from Brad the Bugman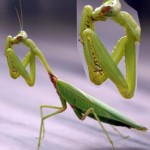 We believe a knowledgeable customer makes good decisions – so we offer these helpful articles and videos throughout the website!
Just click on any link to read an article. Please leave a comment, call or email if you have any questions, want more information, or have suggestions for another article!
Don't miss the latest Blog update – at https://marchbiological.com/shoo-fly-blog/
Controlling Flies in Horse Stables

What Exactly Are Fly Parasites?
Cool videos on those wonderfully, strange Praying Mantis.
How to Get Rid of Flies the Natural Way.
"The Bugman" – Bug Control for Medical Marijuana Plants (Green Lacewing Eggs)